Welcome to KMACADEMY! My name is Kristina Mackova and I am the founder and CONSCIOUSNESS CONSULTANT. My passion is to simplify things and to continually develop my inner and outer world. I am pleased to help people to solve thier unsolvable situations so that they can reach their full potential. Life is amazing if we do not make it too complicated and we take it "SIMPLY EASY".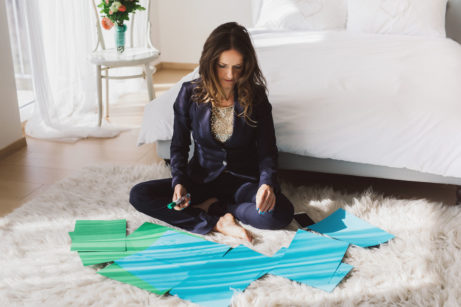 I gained my work experience in various professions, but they had a common denominator - working with people and building markets and new concepts at a global level. I worked mainly in the technical field. I fell in love with the automotive industry, where we with colleagues optimized the processes. To be a part of the implementation of the production processes, tracking the parts that are sometimes circulating around the globe to manufacture a ready-made car in the end, sit in it and drive it - it's an incredibly beautiful experience for me.
But only people from the industry know what a complex process it really is - a process involving the implementation of an incredible amount of regulations, the requirements of individual manufacturers and, above all, communication with global partners. And it is the human mind that has been and continues to be the hard hurdle in our AI driven industry, where technology is constantly evolving and the limits of our possibilities are moving forward every day. Up to 90% of the cost of unnecessary defects in work processes may be caused by human factor.
That's why I decided with KMACADEMY to support people in companies. Without them, no company would exist! To be able to pass on my vision well, I first worked on my inner self for 8 years. It has brought me to a life improvement technique that has proven itself not only to me but also to other people. After 3 years of intensive training and continuously working on my inner self, I have become a certified therapist of the RUŠ Method, which empowers me to help people solve their problems quickly, efficiently and with a lasting result.
KMACADEMY also cooperates with Experts from around the world who, according to your requirements, pass on their know-how in the form of workshops / tutorials and so on.
Do you have any idea how to support our expert network with your knowledge? Please contact me by e-mail: kristina.mackova@kmacademy.eu
Wishing you a beautiful SIMPLY EASY day 🙂
Your Kristina.
 I help people to fully connect with themselves and to rediscover their own uniqueness - for better results! And the key I use: always start with you first if you want to change something in your external environment and take it - "SIMPLY EASY. "
Kristína Mackova, founder KMACADEMY and CONSCIOUSNESS CONSULTANCY
HEAL YOURSELF! - and STAY HEALTHY! Gallstones
HEAL YOURSELF! and STAY HEALTHY! Gallstones
read my story of healing on the example of gallstones, or what the doctors will not tell you...